Business is On-Fire… literally!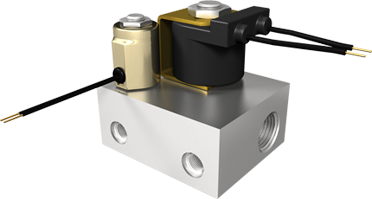 In business for just over 10 years, Fire By Design has seen demand skyrocket for their high-end decorative fire products for outdoor living spaces.
The company designs and builds decorative fire tiki torches, fire pits, fire/water bowls, a fire breathing dragon and just about anything you can imagine. Some systems provide over 100 feet of continuous flame in a submersible water tank. These low-pressure gas fire systems range from 200,000 to 1.1 million BTUs and can be operated by smart devices or independent remote controls.
With demand for new products on the rise, Bob Roman, company founder, began developing more sophisticated fire systems. Keeping their combustion systems "simple and reliable" has been no easy task. Some of these new designs were plagued by an audible "humming". Additionally, these complex systems had potential for leaks due to the number of brass fittings. Looking for a solution to his problems, Roman contacted the sales engineers at Solenoid Solutions, a maker of custom solenoid valves.
Solenoid Solutions
Immediately, the Solenoid Solutions' engineers assured Roman there would be no humming or ill affects from vibration or heat using their standard valves due to their design and components. This proved true, and Fire By Design began incorporating Solenoid Solutions' Wattmizers valves throughout the product line.
After a follow-up visit from sales engineer, Tom Martin, SSI engineers began development of a few valve manifold systems that would incorporate low-pressure Wattmizer solenoid valves, a larger main burner valve and would eliminate much of the "plumbing" that could lead to potential leaks.
Solenoid Solutions designed and 3D printed a series of manifolds that were tested and approved. These new manifolds will be incorporated in Fire By Design's recent order from a Hawaiian resort for hundreds of gas Tiki Torches which include the new remote ignition systems. The ability to light these touches remotely will save untold hours verses manually lighting each lamp.
"The new manifold systems from Solenoid Solutions eliminate multiple assembly operations, speed production and improve our overall quality control", stated Bob Roman. We install the valve manifolds right out of the box with all the fittings, attach the connections and we're ready to go."
Roman continued, "The Solenoid Solutions team has been really responsive. Their valves and manifolds are in just about every product we offer. And my overall cost of manufacturing has come down."
Visit Fire-by-Design
Rapid Prototyping
Solenoid Solutions offers 5-Day rapid prototyping, fast quotes, engineering services, and stringent quality control testing to ensure your medical device delivers the performance you expect.
Manifold Systems
Improve your overall design with a custom manifold for multi-valve systems with an endless list of configurations, porting and functions.
Plug-and-Play Assemblies
Outsourcing subassembly operations improves your productivity and allows us to deliver a plug-and-play solution with even greater performance. These include regulators, fittings, controls, leads, coatings, pressure switches,mounting options and much more.
Solenoid Solutions is more than valves, we're solutions. Contact Solenoid Solutions on your next project, or to request a quote: Call 888.825.8405 or visit SolenoidSolutionsInc.com